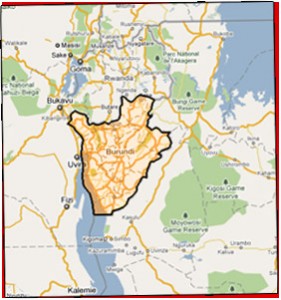 Geography and Historical and Political overview
Burundi is a small African state. It is located in the geographic region of the Great Lakes. It is bordered by Rwanda to the north, the Democratic Republic of Congo to the west, and Tanzania to the south and east. Its capital is Bujumbura. Burundi was colonized by Germany and Belgium and gained its independence in 1962. It has been a presidential republic since 1966.
Situation of the population and children
Burundi has an estimated population of about 8 million inhabitants. Of these 800,000 are orphans, the highest number of orphans in the world with a percentage of 10% of the population. The population is 85% Hutu, 14% Tutsis and 1% twa, an ethnic Pygmy group. Burundi is one of the ten most underdeveloped countries in the world mainly due to the socio-political crisis and a civil war that lasted many years. To this day the political climate is unstable and security is poor. Religion: predominantly Catholic (approximately 90% of the population). The infant mortality rate is 6% (6.3 deaths per 100 live births) and life expectancy is 50 years.