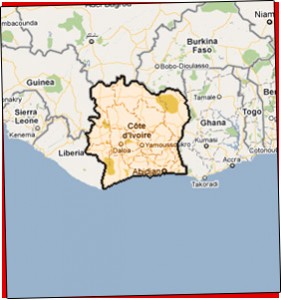 Historical and political context in the Ivory Coast Currently a presidential Republic, the Ivory Coast is a former French colony which gained its independence in 1960.
The current president is Alassane Ouattare. African country overlooking the gulf of Guinea, it borders with Liberia, Guinea, Mali, Burkina Faso, Ghana. The country's main resource is agriculture, in great part based on coffee and cocoa. Oil fields were recently discovered off shore.
State of the population and children
The Ivory Coast has approximately 19,000,000 inhabitants, the average life expectancy is approximately 40. More than a fourth of the population subsists on a bit more than a dollar a day. As far as religious beliefs, most profess to be Christian and Muslim; together they represent 80% of the population.