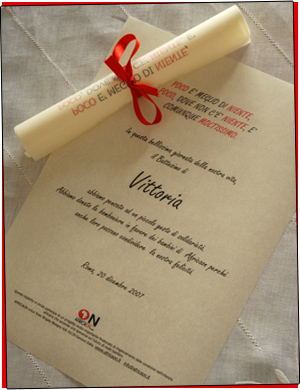 In the most important moments of one's life
Baptism, First Communion and matrimony are all important occasions which mark crucial landmarks in our lives. With AfricaOn's solidary keepsakes these occasions can gain an added value inherent with the gesture of solidarity which is made through such gifts. Substituting the typical keepsakes with AfricaOn's parchments will enable our association to allocate funds for the development of projects in Mozambique , Tanzania and the Ivory Coast. The primary objective of these projects is safeguarding children.
Features and customization
The parchment contents are fully customizable, so they can also be used for other occasions such as graduations, birthdays etc. The parchment is the product of excellent craftsmanship made with cloudy ivory natural parchment paper 110g/m², A4 paper format (21×29.7cm) and includes a red ribbon for the bow.
Cost and shipping
The solidary parchment do not have a fixed price, just a minimum donation of four euros per parchment. Shipping in Italy is available upon request. Please contact us should you need additional information.